It looks like I'm updating my blog every 3 or 4 days. I'm okay with that cadence, but I would really like to keep it going here.
Since my last post, I was trying to get into the house after a long day and I was pretty tired. I miss-stepped coming into the house and tripped on the threshold. I didn't land on my leg and i'm not 100% how it happened, but I was sore in my bad achilles for about two days. I was VERY afraid that I re-injured myself, but thankfully it did not. It was pretty messed up because it really scared me. I am now SUPER slow going through doors, especially where there are rugs around.
I did get to go to a wedding this weekend. It was really great to get out of the house and see some people. My wife and I met up with some friends after the wedding and actually went out to a bar. I didn't drink too much, but moving around in a crowded bar on my crutch was a challenge. I really only got up to go to the bathroom, but I don't think I want to go do that again.
Life doesn't have to stop! =)

While out of town I slept on my friend's couch because it was on the first floor of his house. He has two Bernese mountain dogs as pets. I've never seen an animal want to stay that close to me because they knew I was injured. It was really sweet because they wanted to lay on or near me to keep me comfortable.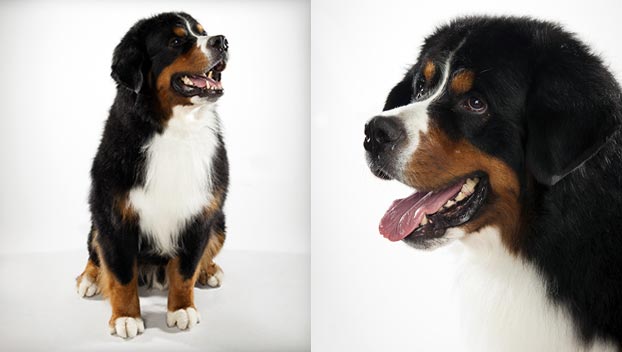 After talking to my sister last week, she was adament that when I start going to Physical Therapy that I have someone who will spend as much individual time with me as possible. She said to find someone who does more than handing you a sheet of paper with exercises and walks away or has to split their attention between 5 or 6 people. In order to heal and get the most out of my time in PT, they need to be hands on with exercises and massages for recovery. Because she is a Physical Therapist, she knows what it takes to really recover. I plan on using her as a resource. I'm really lucky to have someone like that I can talk to about everything here.
Another item I forgot to mention the other week had to do with my cast protector that I use when taking a shower. It turns out that the items never arrived in time so my wife had to go to the drugstore and get me the cast protectors. She couldn't find them at the local Walmart, nor one of our regular CVS drugstores. She had to go to a Walgreens and get a protector that was almost $15 each. I think it's much thicker vinyl than the ones I was talking about getting and it only came in a pack of one. The only real problem I have with it is that the rubber pulls my gauze bandages down when taking it off. I've been practicing a few times and gotten better at it but it works really well and has done a good job.
I also got the suction balance assistance bar for the shower. It's been a huge help. I don't put all of my weight on it, but it helps give me a little more control. Other thing to note, is this gauze has Velcro on the ends that keep it wrapped just right once adjusted. I'm really impressed with it about how well it's holding up. I'm just looking forward to being able to take a regular shower and wash that leg.
The leg protector I got from Walgreens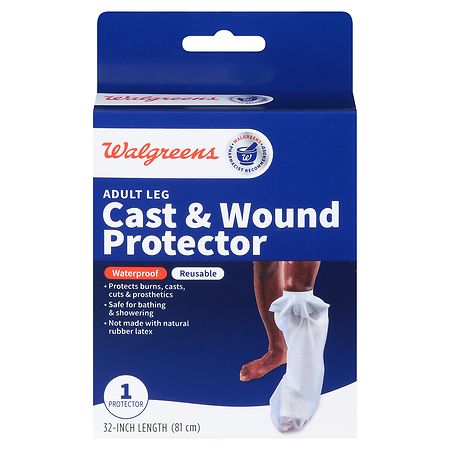 The Curad cast protector did finally come after a neighbor brought it by because the mail was delivered to the wrong mailbox.
I feel like I'm constantly writing about stuff to make life easier, but one last thing for today. I was wearing my right running shoe that I got as a pair a few months ago. Well, the laces they came with were WAY TOO LONG. They weren't just a little too long, they were WAY long. I noticed that the laces could be a trip hazard when I'm walking on my crutch with the other leg because there are alot of times I don't take full steps because I am trying to walk as carefully as possible. So I ordered some new shoestrings, and I think going forward I will be replacing all of my shoelaces in my sports shoes with the replacements I purchased. They are called New Balance Sure-Lace Shoelaces and they are pretty amazing. They have little beads in the laces that keep them from slipping. I suggest you check them out.
My wife and I have started to eat alot more rotisserie chicken to up the protein I'm eating each week. They only cost about $5 at Sam's Warehouse. and there is so much meat on them. We are also using the chicken for making chicken salad. It's delicious beyond compare even if it is a little fattening. She uses greek yogurt in place of mayonnaise and it is amazing. I am also tying to eat as much pineapple as I can too. I've read on LiveStrong that along with other foods can provide your body what it needs to recover.
I continue to research the types of techniques and therapies I can use once I start PT. My reason for constantly researching is that I want to be as prepared as possible and know what to look forward to.
Again, I will be skeptical of any therapy technique and will want as much evidence based research applied to whatever processes I use.
One of the items I've found is called the Graston Technique. This method uses steel rods, pokers, and other scary looking and expensive equipment to help break up scar tissue. There are lower cost tools that aren't stainless steel used in Gua Sha therapy. Again, just because the title of an article is "The Science Behind Gua Sha" does not necessarily mean real scientific studies have been done. Again, I'll be talking to my sister to get her input.
Graston device in use on an achilles

Graston tools

Gua Sha tools work the same way

Part of me knows that there may only be a little or no truth to these therapies. Even though, I don't feel like researching this is a waste of time. If anything, it will help me identify when someone is discussing with me what they are talking about as well as being able to tell if they were bamboozled by the pseudoscience. i almost feel like the scraping massages listed above may have more truth to them simply because they are massage techniques as apposed to "finding electrical shorts" in your nervous system.