Dec 31 2008
Well I was expecting to get my stitches out on the 30th, but that did not happen. I spent about 2 1/2 hours at the docs office. While I was there they took off the splint that was put on at the time of my surgery. Here is what things looked like.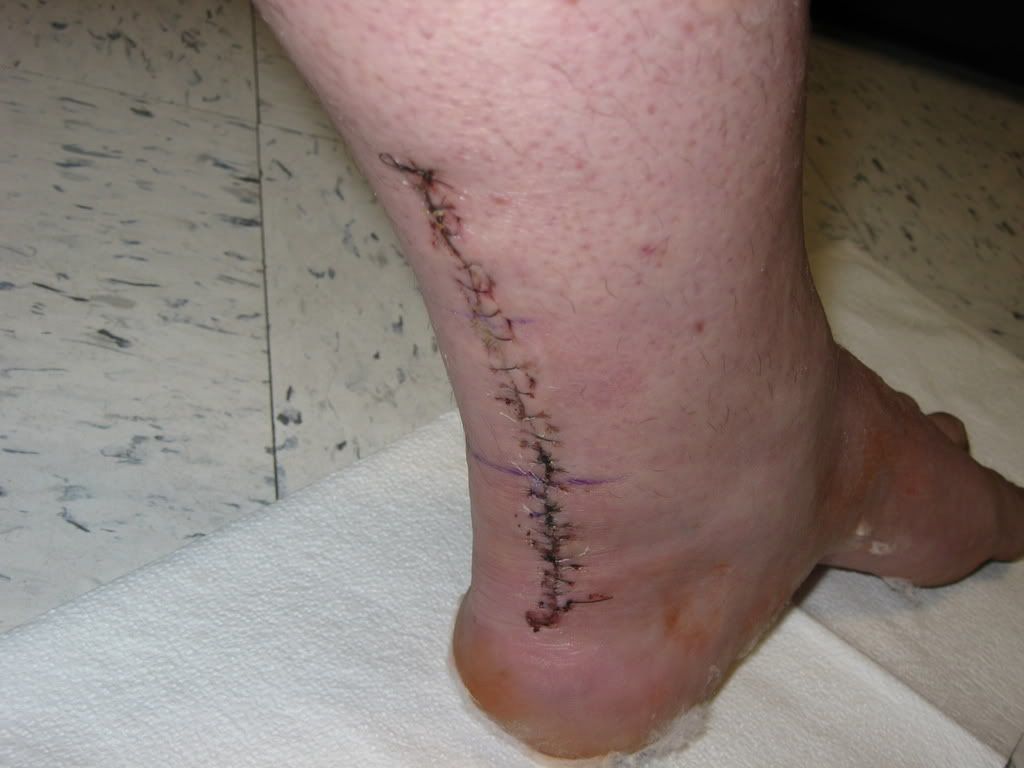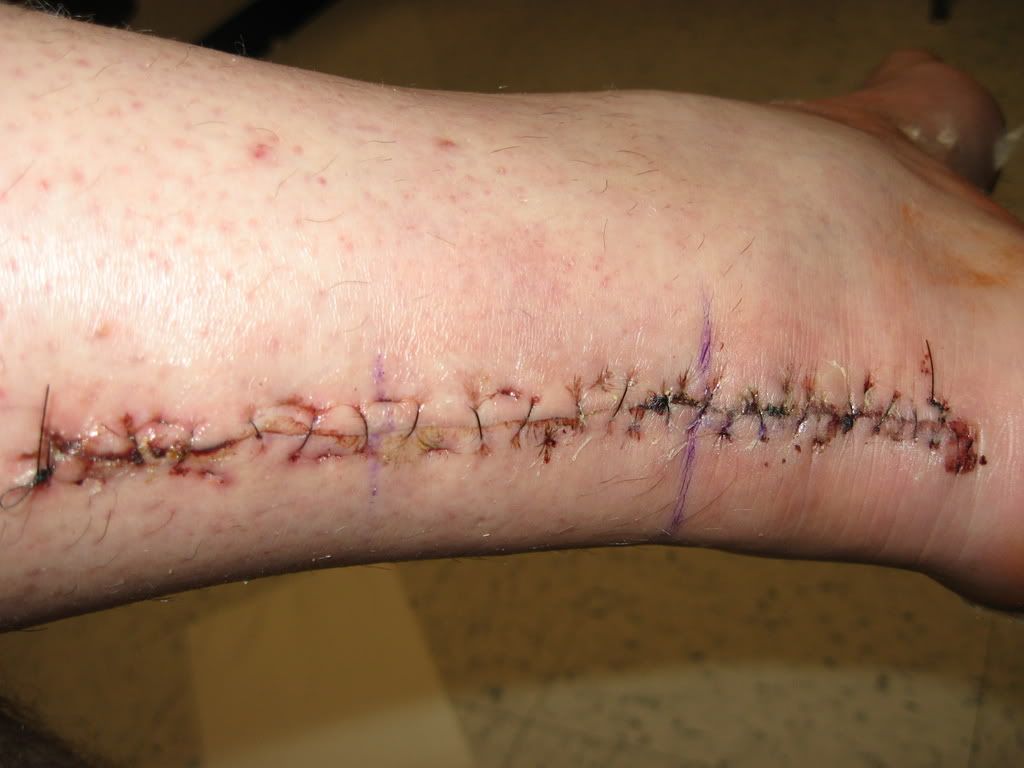 These pictures are two weeks post surgery. Before I had the splint removed I was a bit worried about some pain that I was having. I had a stinging sensation and it felt like something was poking me. Once I saw the scar though I was relieved to see no redness or swelling that would indicate an infection. My doc poked around the wound which was not painful and said that the pain was probably a result of things healing up and not to worry about it.
So this is how I am as I enter into 2009. Next Tuesday I go in to have my stitches removed and my first cast put on. The protocol my doctor is following is as follows: 6 weeks non-weight bearing, 6 weeks in a walking cast, and 6 weeks in a cam boot. I know that this isn't as agressive as some, but I am fine with it. I am not so worried about healing fast, but rather healing well, and if that takes time then it takes time.
2 responses so far
2 Responses to "First Post-Op Doc Visit"
denny

on 01 Jan 2009 at 1:08 pm

1

Hi,

I'm a few weeks ahead of you so maybe I can offer some advice. I had two weeks of splint, four weeks of cast and have been in a boot for almost two weeks. I expect the boot to be gone next week.

Two things that helped me. I used a knee walker through the end of the cast period. I never used crutches at all and it saved my back and everything else. Also, when taking a shower I used a cast protector I bought from http://www.drycorp.com which kept the cast 100% dry with no worries at all. Those two things kept the first six weeks bearable. My PT feels that my recovery will be relatively short as I've come through everything so well. Hope the same for you.

Regards,

Denny

apriladventure

on 02 Jan 2009 at 2:33 pm

2

Thanks for posting the pictures. I think they look great. I hope mine look as good. My appointment is Wednesday, January 7th.

I keep checking your posts to see how it is going since you are only a few days different than I am. Thanks for keeping us up to date.
Leave a Reply