Posted on August 25th, 2015 by beachy12
Went for my second post op appt this morning. All looks good. She could tell I was more active by the swelling. I'm FWB in a boot at neutral. I'm supposed to be in the boot until 4 weeks, then slowly transition to 2 shoes. I'm in absolutely no hurry to put a shoe on my poor foot. I went to the grocery store and didn't bring along my crutch, then went home and stood in the kitchen to put together dinner. Oh man, I can definitely tell I over did it. More painful now than it's been in the last week. I'm trying to go thru the whole heel-to-toe motion while walking in the boot, but it's just so painful when weight is on my forefoot. I need to make myself stay off of it more. Just makes me crazy sitting on the couch all day asking others to do things for me. Thankfully, a friend came over yesterday to keep me company while my boyfriend was out. Hoping this second surgery will fix everything, and pain will diminish soon. I don't think I know what a pain free foot and ankle feels like anymore.
The numbness in my left thigh (good leg) is starting to slowly diminish, it still feels very weird to shave my leg though. I also have some numbness in the top of foot and big toe of my surgery foot, I'm think from it being bandaged tightly after surgery. It's slowly starting to go away too. Following my nightly routine of ice, elevation, and a fluffy kitten to pet!
On a different note, I was given a card with all the information on my donor graft, including where to send a note to be given to the donor's family. I thought this was very meaningful to be able to thank them for their loved one's gift. I haven't written it yet, but definitely plan to do so.
This was last night.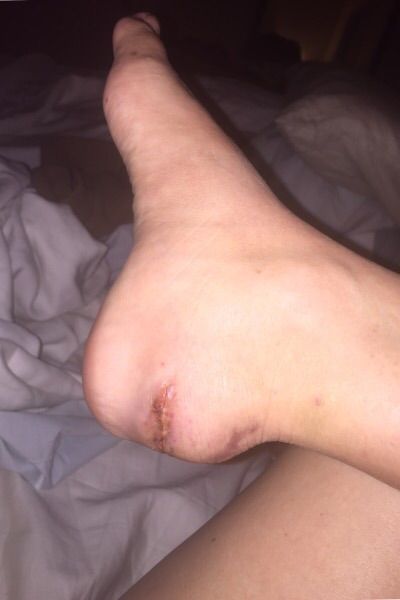 This was 3 days post op.

A bonus kitty picture. A lot of you know I lost my furbaby, Tony Bug, back in April from the topical compounding cream I was using. My heart has finally healed enough to get a new kitten. This is Herbie, I've had him for around two months now. He's the best nurse ever!