Posted on September 9th, 2015 by actionjackson1
Finally, Two Shoes and it Feels Great!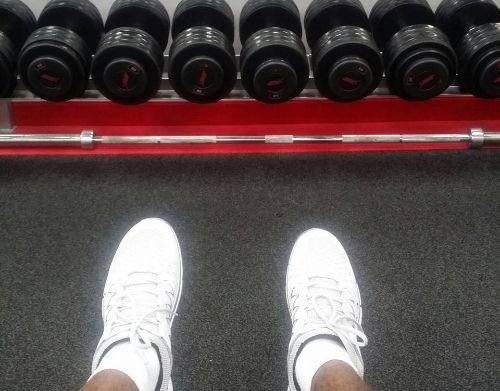 Uh oh, no more crutches, finally out of the walking boot and ready to leap tall buildings in a single bound… they call him TWO SHOES! Thanks Lewis Mcknight (my barber Holy Hands Barbershop) for the nickname! Well 2 out of the 3 above descriptions are true (leaping the building maybe a reach, lol) however I Thank GOD for the progress and His continued healing and for your prayers.
Wow, what can I say, I am finally out of the boot and into two shoes! After 2.5 months, the boot is off and all of my left shoes are screaming for joy. The doctor stated that when I am in a crowd place, I may want to have it on just for protection but for the most part, have at it, break those left shoes back in. I still have a slight limp but my therapist and doctor both agreed that this is par for the course until I build up strength and flexibility to allow full movement in both my ankle and achilles.
This is a major step in the right direction and I am taking it all in, as well as every phase of my ATR recovery. I am thankful to have this blog to journal these breakthrough moments, to follow other's progress and share tips for recovery.  Thanks for reading this post and I ask you to please share your major breakthroughs no matter how small or large. Sooner or later, we will be back to 100% with our Achilles tendon and ready to take on the world in front of us.
Make it HAPPEN!!!
P. "Action" Jackson
pjackson@theactiononline.com
P.S. Here is a resource for your achilles tendon recovery.
Filed under: Achilles Boot and Exercises and tagged achilles healing, achilles tendon recovery, leg getting stronger, major breakthroughs, put on two shoes, walking without the boot