Posted on July 28th, 2015 by actionjackson1
Physical Therapy was a Blast all for One Day! Week 6
Well here I am checking in with you during week 6 and on last week I was in for a Big surprise… Physical therapy. I visited my doctor a week ago after checking my leg, he advised me to work on getting more range of motion in my ankle. He also asked me to wait 2 days and then take out one heel wedge in my boot to stretch out the achilles a little more. Before I left his office, he handed me a Prescription for setting up my physical therapy and requested that I call and get everything setup.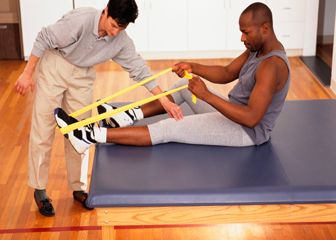 Fast forward a few days and I called and set everything up to go in on Friday for an evaluation and get the ball rolling. I went to the physical therapist office, completed some paperwork, met with the therapist, took off my boot for the evaluation and after a few stretches, the therapist asked me to do a few exercises such as heel lifts, pick up some marbles with my toes and drop in a bowl, write the alphabets with my foot to work on the range of motion, etc… I did great!
Now being all excited, I called my doctor to give him the news and after going through my activity at the physical therapist office, my doctor's office manager told me to WAIT before I started the actual therapy until I come back to the doctor for my next appointment in two weeks. I was disappointed at first because I felt I did good with therapy and I had booked the next 30 days with time and appointments. However I have to keep in mind, that this is a lengthy journey of healing that I am on and for me to get back to working out strong and hopefully not suffer any re-ruptures and long term damage, I need to take my time and go through the proper process that my doctor ordered.
A few days after therapy, my achilles tendon area is very sore, I mean very tender to the touch. While I was going through that one therapy session, everything felt good however now I am almost kicking myself because it felt like I may have pushed it a little too far and now I am left to deal with some "unnecessary pain in that area.
Well, I have 2 weeks to continue icing my foot down, taking the last heel wedge out and being careful with my activity until my next doctor appointment. Until then, I will say, get a full and complete understanding as to when you should start your physical therapy. Even if your doctor give you a prescription for physical therapy, it is likely to be for the setup of the initial evaluation and nothing more or nothing less.
Be STRONG!
P. "Action" Jackson
pjackson@theactiononline.com
Filed under: Achilles Boot and Exercises and tagged achilles rehab, ankle bands for therapy, ankle exercises, ankle range of motion, physical therapy, soreness in heel